Two Crews | Nick Power
About Two Crews
"Being in a crew is the cornerstone of hip hop culture. It means you belong. You will build skills together, rock shows, battle rivals and turn the party out. Creativity fuelled by fun, friendship, community and competition. No overarching bureaucracy, administrators or managers. A pure dance entity. Each crew has its own story and reason for being. This show is about two crews – Riddim Nation & Lady Rocks."
– Nick Power, Director and Choreographer
Contemporary dance innovator Nick Power's brand-new collaboration brings together two leading dance crews for an exhilarating immersion in global hip hop dance culture.
All-female Parisian crew Lady Rocks specialises in intricately choreographed and combative battle sets. Sydney group Riddim Nation blends Pacifika, African and Asian influences into its eclectic and cheeky style.
Each crew is unique, but both find power, expression and camaraderie in the ever-evolving global language of hip hop dance.
Collaborating for the first time in a cypher set to music by Sydney composer Jack Prest, Two Crews puts Lady Rocks and Riddim Nation to the test in a high energy display of fierce style, crew tactics and party rocking fun and funk.
Reviews
"★★★★ What a treat – dance that is fun! The title of this hour of serious mayhem refers to two hip-hop crews that compete fiercely, yet in a friendly way, through dance that requires precision, speed stamina and stacks of character… And when the two crews hugged each other at the end, it was as though they embraced us all in spirit." Jill Sykes, Sydney Morning Herald. Full Review
"What a joy to witness this latest dance work produced by Australian B-boy, hip hop advocate and choreographer, Nick Power tonight. And that joy wasn't just reflected on the faces of the rapt audience who filled the bleachers on both sides of Bay 20 at Carriageworks… The joy was also evident in the smiles of the dancers, especially those from four-member all-female French crew, Lady Rocks whose sheer pleasure in moving across this stark dance space, could not be contained… Pushing the envelope of what a hip hop show should sound like, besides one brief funk-sampling sequence – and effective silence for another – Two Crews' seamless score and minimal lighting effects, bridge the divide between the street and theatre, basketball court and club." Paris Pompor, 2ser.com. Full Review
"★★★★ Uplifting… infectious lyricism… Jack Prest's score spans widely across quiet percussion, crashing symbols and melodic beat, and Matthew Marshall's lighting bathes the stage in simple shifts of colour. With such support, Australian choreographer Nick Power is masterful in shifting moods, extracting character detail from his diverse dancers and inventively stretching the language of hip hop. Still though we stay essentially on the street, with the audience banked on either side of the stage and the dancers prowling the side pavements." Martin Portus, Daily Review. Full Review
"An astonishing display of skill and style. The movement in Two Crews is extraordinarily inventive… Power's achievement is all the greater for what it achieves without any of the flashy acrobatics, not even a freeze. Two Crews is stripped down, amped up, and hugely satisfying." Peter Burdon, The Advertiser
Acknowledgements
This project has been assisted by the Australian Government's Major Festivals Initiative, managed by the Australia Council, its arts funding and advisory body, in association with the Confederation of Australian International Arts Festivals Inc., commissioned by Sydney Festival, Adelaide Festival, and Brisbane Festival; and by The Australia Council for the Arts; Bundanon Trust; The Australian Government's Department of Communications and the Arts; Ambassade de France en Australie and Initiatives d'Artistes en Danses Urbaines – Fondation de France – La Villette.
Hero Image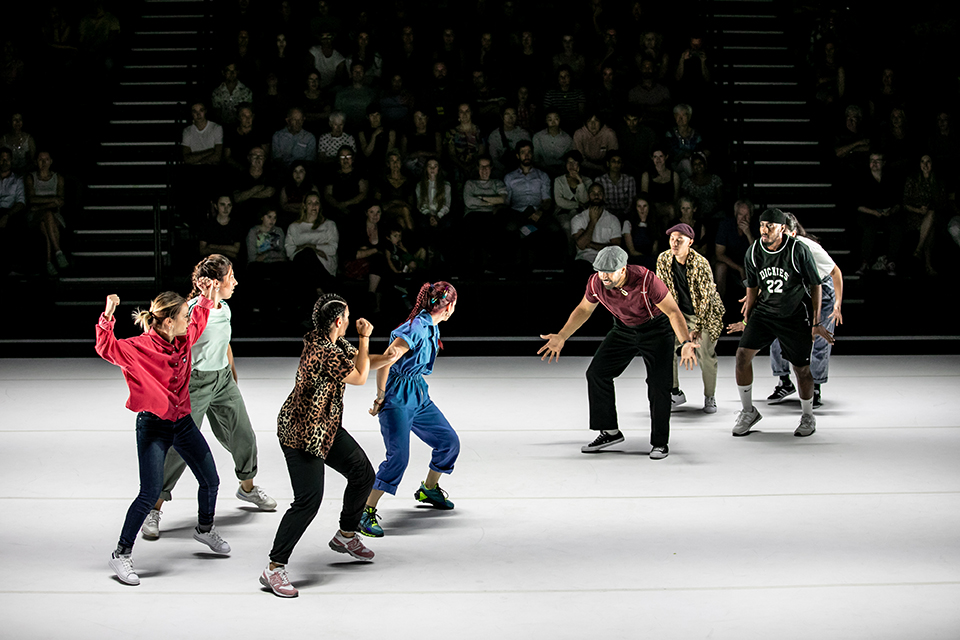 Photography Credit
Victor Frankowski for Sydney Festival