s.l.o.a.p. | Branch Nebula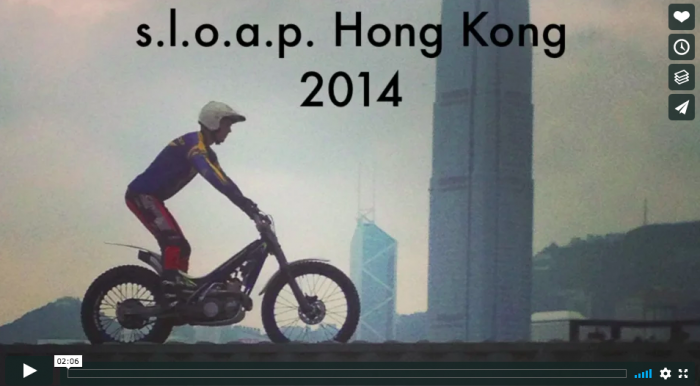 About s.l.o.a.p. (space left over after planning)
A process-based performance model to transform urban spaces.
s.l.o.a.p (space left over after planning) premiered in Helsinki, Finland as part of Urb Festival 2013, and adapted for a very different context and physical space in Hong Kong, for West Kowloon Cultural District Authority's Freespace Fest, November 2014.
s.l.o.a.p is a process-based performance model, that intercepts public spaces, or 'non-spaces', to reconfigure them as inspiring and creative places, in collaboration with local street-style artists.
s.l.o.a.p is an architectural term referring to: useless pieces of ground, under a freeway, or a disused empty block. Utilizing the gestures and the language of street-styles to thread and weave meaning and form, s.l.o.a.p critiques the co-opting of public space as an exclusively commercially owned and operated zone.
Branch Nebula developed this approach to touring for URB Festival, Helsinki in 2013, in order to extend their investigation into urban cultural forms like street-styles, and an ongoing interest in performance that is arresting and provocative within the public sphere.
Branch Nebula has chosen to collaborate with street style artists who habitually engage with public space, with a process that uncovers a site to discover its challenges, and to reclaim it as a site for artistic expression and ownership.
Skaters, BMXers, trickers, Parkourists and street dancers scour the walls, stairs, rails and concrete, their bodies acting as conduits for the vibrations of the city.
Forty audience members sign up to volunteer to be present in the show, without rehearsal. Audience volunteers are given a series of diagrams to reconfigure themselves into a number of shapes, in their role as 'soft architecture'. The performance is choreographed around various audience blocks to increase proximity and to investigate the audience as a mass body in relation to the architecture of the space.
Residency Model
Branch Nebula's process based model appeals to many international presenters as a way of including local artists, particularly young street artists who are not traditionally included in arts festivals. They bring a new audience to the festival and also introduce arts audiences to diverse cultural forms.
Branch Nebula has a track record making & touring street style work over 10 years, in theatres, skateparks, other indoor & outdoor spaces, with a range of artists, and presenters, in Australia, Brazil, Finland, Hong Kong, Chile. In this time BN has developed sophisticated processes for collaboration between street style artists and performance makers, and processes and models to suit diverse contexts, from touring finished work, to improvising in situ; from collaborating with community members in short timeframe workshops, to extended collaborations with both volunteers and professionals.
For a short (one week) low impact skatepark residency model, where BN artists collaborate with local skatepark users to create and perform an improvised work, see Snake Sessions.
For a large scale, highly structured and choreographed touring work rehearsed and presented in a skatepark, see Concrete and Bone Sessions, a work originally commissioned by Sydney Festival, and toured to Santiago a Mil Festival, Chile.
So choose your own adventure! Talk to us about how we can adapt our existing models and processes, to your physical space, and social and artistic context.
Reviews
It was something that has never before been seen in Finland, but something that one wishes we will see much more after these four performances at the festival. It was a performance which can be considered, with some boastfulness, as history making. It was a new step in the development of street styles as forms of performing arts… The co-operation of the performers created a work that did justice to the street styles but at the same time it was a well balanced performance with clear artistic aims. And it was magnificent.
– Demokraa(FI) / Annikki Alku
Production Notes
How it Works

One of our team comes to you to research the place, the context, the local culture;  to work with you on adapting the existing processes to your context;  and to select a suitable site;
This research visit informs the selection of the site for the performance, which can range from large outdoor spaces as in Hong Kong, to confined disused warehouse spaces, as in Helsinki;
We conduct an audition to find local professional artists (skaters, BMXers, parkourists, trickers, dancers, musician/composer/sound designer) to perform in and create the production;
We create the work on site (duration negotiable, preferably a minimum of 3 weeks) in collaboration with the local artists and the presenting partner's producing and technical team;
Touring party of 3, plus 2 children, and collaborate with 8-10 local artists.
Additional Images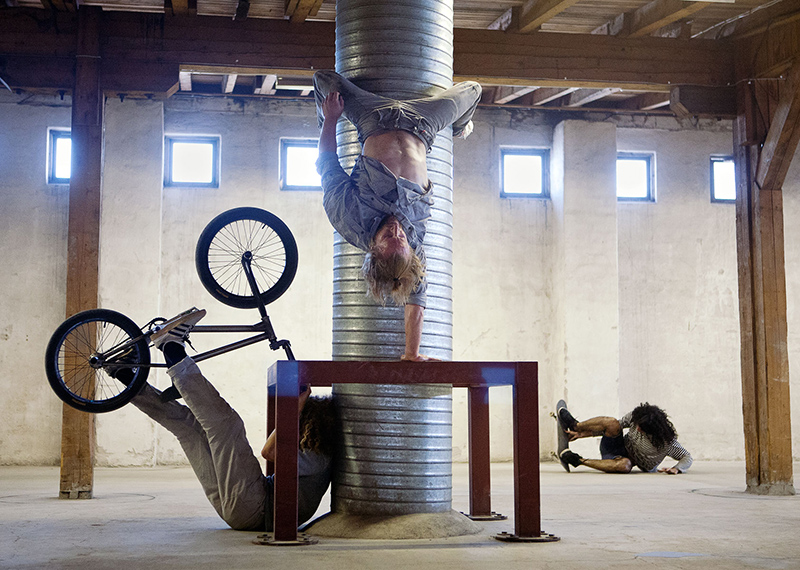 Photography Credits
Photography by Liina Kenraali in Helsinki.