Between Tiny Cities រវាងទីក្រុងតូច | Nick Power
About Between Two Cities រវាងទីក្រុងតូច
In Between Tiny Cities រវាងទីក្រុងតូច, dancers Erak Mith, from Phnom Penh, and Aaron Lim, from Darwin, use the rituals, movement styles and language of their shared hip-hop culture to reveal the dramatically different worlds that surround them and uncover the choreographic links that unite them.
Choreographed by internationally-renowned Sydney hip-hop dance artist Nick Power and accompanied by the beats and sound design of Jack Prest, the work blends the raw, wild energy of b*boy battles with skilful improvisation and choreography, offering a cross-cultural perspective on style, culture and locality.
The project is the result of a four-year dance exchange between Darwin's D*City Rockers and Cambodia's Tiny Toones youth program. The two crews have travelled, trained, battled and performed together, and Between Tiny Cities រវាងទីក្រុងតូច, is the culmination of that exchange.
Reviews
"An intelligent, expressive and engaging production which gently subverts preconceptions around hip-hop and masculinity…. A rich exploration of the possibilities of hip-hop choreography and an early highlight of Dance Massive. 4 stars"
– Richard Watts, Arts Hub, March 2017
"Between Tiny Cities is a beautiful, bravely presented duet that tells how two competitors from different milieus discover commonalities through dance."
– O-Ton, Berlin, August 2018
"Dancers Aaron Lim and Erak Mith are extraordinary. They blend contemporary dance, hip hop, Indigenous and traditional Cambodian dance in a thrilling, compelling mix full of incredible dynamic energy and fluid grace…. The audience is so close you can see and smell the sweat pouring off them and hear the squeak of their shoes… This was a fascinating, mesmerising dance dialogue/battle about two cultures colliding."
– Lynne Lancaster, Sydney Arts Guide, July 2019
"Exciting and thrilling… with a terrific soundscape (sound design by Jack Prest), Aaron Lim and Erak Lim are simply fantastic; breath-taking in their skill and power, taking one on a thrilling and dynamic journey of connection between two strangers. Highly recommended."
– Stage Whispers, Feb 2020
"Thrilling, humorous and heartwarming. Power and his dancers give new voice to the dance of a generation…  Lim and Mith are masters of their genre, fuelling the forty minute performance with dynamic youthfulness and fiery spirit as well as tender acceptance and respect."
– Canberra Critics Circle, March 2020
"Between Tiny Cities is truly a marvel of sleek, vivid and intense choreography intertwined with the improvisation and urban beats of break dancing to explore the universal story between two performers through dance. Raw, energetic, compulsive, tenacious and dramatic. Highly recommended."
– Lia Cocks, Theatre Travels, March 2020
Production History
Arts House, Melbourne (Dance Massive), March 2017
Skateistan, Phnom Penh, March 2017
Darwin Festival, August 2017
Hong Kong Arts Festival, March 2018
APAM Showcase, 23 Feb
Hong Kong Arts Festival, 16 – 17 March
George Town Festival Penang, August 2018
ImPulsTanz Vienna, August 2108
Sziget Festival Budapest, August 2018
Workshops presented by Tanz im August Berlin, August 2018
Tanz im August at Sophiensaele Berlin, August 2018
Tanzmesse showcases, Dusseldorf, September 2018
Bleach Festival, Gold Coast, April 2019
Sydney Opera House, July 2019
Arts Centre Melbourne, July 2019
Northern Territory toured by Artback NT, 2019: Ramingining 17 July | Milingimbi 19 July | Galiwin'ku Recreation Centre 22 July | Umbakumba Basketball Courts 24 July | Yirrkala 26 July | Katherine High School 30 July | Desert Harmony Festival, Tennant Creek 4 August
Noorderzon Festival, Groningen, Netherlands, August 2019
Tanzhaus nrw, Düsseldorf, Germany, September 2019
Asia Europe Foreign Ministers Meeting, Madrid, December 2019
Adelaide Festival, Feb-March 2020
Breakin Convention festival at Sadlers Wells, London, April-May 2022
Belfast International Arts Festival, May 2022
Contact Theatre, Manchester, May 2022
Norfolk & Norwich Festival, May 2022
Production Notes
Duration: 40 minutes.
Performance is staged within a 10m diameter circle in a room of minimum dimensions 12m x 12m.
Audience stands around perimeter of circle, so capacity is 120-130 (120 adults, slightly larger capacity possible if all school aged audience).
Suits studio theatres, halls or any flat floor room, ideally with lighting grid. Outdoor staging also possible.
Touring team: 5
Acknowledgements
The UK tour of Between Tiny Cities is supported by the UK/Australia Season Patrons, the British Council, the Australian Government, and Creative Partnerships Australia, through the Australian Cultural Fund as part of the UK/Australia Season 2021-22.
Between Tiny Cities  was developed with the support of the Australian Government through Catalyst – Australian Arts & Culture Fund, and through the Australia Council for the Arts; and of Artback NT and Accomplice.
Hero Image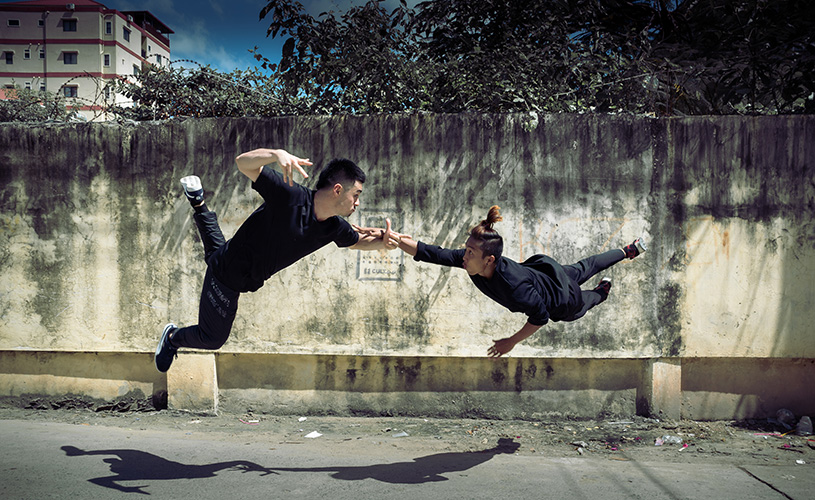 Photography Credits
Photography by Prudence Upton
Photography by Bryony Jackson
Photography by Thoeun Veassna
Photography by Elise Derwin