Jade Dewi Tyas Tunggal & Ria Soemardjo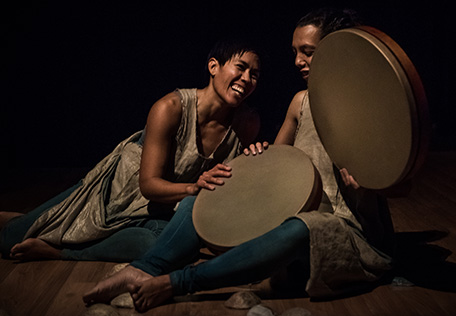 Jade Dewi Tyas Tunggal is a performer, choreographer and creative collaborator. Born in Darkinjung Country she has Javanese ancestry directly descended from Yogyakarta's first Sultan and Borobudur temple and equally Australian Scottish Viking convict-settler.  Her unique dance language is forged in classical ballet, jazz, modern, Java court arts, Bali temple ritual, eco-somatic improvisation and creative collaboration with First Nations Australian dance artists. Awarded High Distinction for a Master of Choreography Research at VCA Melbourne University her entrancing intercultural transdisciplinary work has been created & performed in North America, Europe & Asia Pacific.
Ria Soemardjo is a Melbourne based musician with a passion for collaboration across a diverse range of genres and artforms. Her evocative, textured soundscapes are often performed live using an eclectic array of unusual instruments including voice, gamelan instruments, percussion and found objects.  Ria's distinct, haunting vocal style and musicality reflects her Australian/Javanese cultural heritage and a deep appreciation for the timbres, rhythmic complexity and the ceremonial association of Balinese and Javanese gamelan traditions.